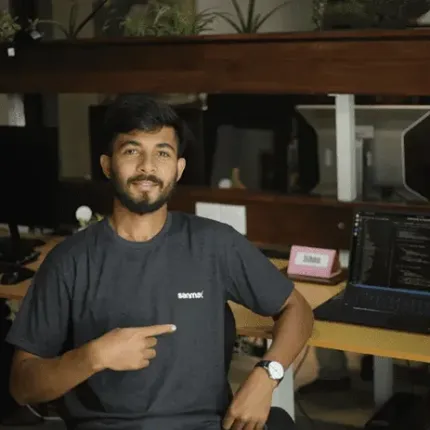 WHAT OUR CLIENTS SAY....
Don't take our word for it. Listen to what our clients have to say before you come on board with us for your next project!

Head of UX & Design, Engaging.io.
Geff Harper
North Sydney, NSW, Australia.
The team at Sanmark have been a key part of the recent success and growth of Engaging.io. Kosala and Buddy are very responsive and have worked very hard with us to create a strong partnership and an impressive team of developers. The development team are very well skilled, conscientious and have the ability to think holistically when problem solving (a huge asset for software engineering) and they work seamlessly with our own team. I can thoroughly recommend Sanmark.

CEO and Co-founder of LogicalIncrements.com
Orion Bukantis
Seattle, Washington, United States
I needed some web development done, and started looking around for dev shops. I put out requests, sorted through nearly a hundred applicants, interviewed a dozen, and ended up choosing Sanmark. Thousands of hours later, I am still very happy with them. They do excellent work, with honest accounting. Highly recommended!

Founder of Truly Tea.
Nyoli Scobie
Byron Bay, NSW, Australia.
Hello, my name is Nyoli. I am the owner of Truly Tea in Byron Bay, Australia. I've been working with Sanmark for many years now. Whenever I need anything done, I just have to send a quick email, and the very efficient staff jump right on to it. I don't have any issues. They are very open and honest. And I am most grateful for that. And I would recommend Sanmark to anyone. And don't be afraid to contact me anytime. Thank you!

Owner of Bidder.com.au
Chris Bastin
Brighton, VIC, Australia.
Sanmark have undertaken a complicated IT project from scratch for us. The entire team have proven to be professional, reliable and skilled. They are a pleasure to deal with and we continue to use their services for new features and updates to our platform.

Tourism Entrepreneur and Owner of VisitColombo.com
Indika Gunawardena
Colombo, Sri Lanka
I am very happy that I decided to use Sanmark for our web development. They produced an excellent standard of work within the agreed time scale. It was an absolute pleasure to work with them.

Tourism Directory.
Tivon Prasad
Galle, Sri Lanka
We are so happy that we decided to use Sanmark to design our website. Words we can't express our appreciation for all the help and advice the sanmark team has given us. Kosala and Ranga were always there to listen to our never-ending requests and worked extremely hard to get everything done according to our wishes. The best thing was that they understood why we wanted things done in our specific way. The sanmark team did their best and has now made us a very satisfied customer. We are very grateful for all the hard work and time everyone has put into our website. The entire team has been absolutely awesome. Thilina created a sophisticated logo that receives a lot of appreciation. Our special thanks to him. We hope that Galletown.lk and Sanmark will be working as a team for many years to come. Thank you so much.
A conversation is the first step in implementing a high-quality software solution.
Let's Meet or leave your information, and we'll get back to you shortly.